Continuing Education Bail Bonds Classes
Bail Bonds Education Center
Introducing Our 14-Hours Continuous Education Webinar
Unlock your potentials and stay ahead in the field of bail bonds with our comprehensive 14-hours continuous education webinar. Designed to provide you with essential knowledge and skills, this all in one package offers a seamless learning experience that fits into your busy schedule. Get ready to elevate your expertise and meet your professional requirements in just one week!
Affordable Pricing
We believe in making quality education accessible to all. With a one-time price of just $99, you gain access to our 14 hours continuous education webinar, receiving exceptional value for your investment.
Class Offering ID: 1188086
Approved Hours: 14
12/04/23 to 12/08/23
Monday to Friday
8am to 10:40am each day
Class Offering ID: 1188087
Approved Hours: 14
12/11/23 to 12/15/23
Monday to Friday
8am to 10:40am each day
Class Offering ID: 1188088
Approved Hours: 14
12/18/23 to 12/22/23
Monday to Friday
8am to 10:40am each day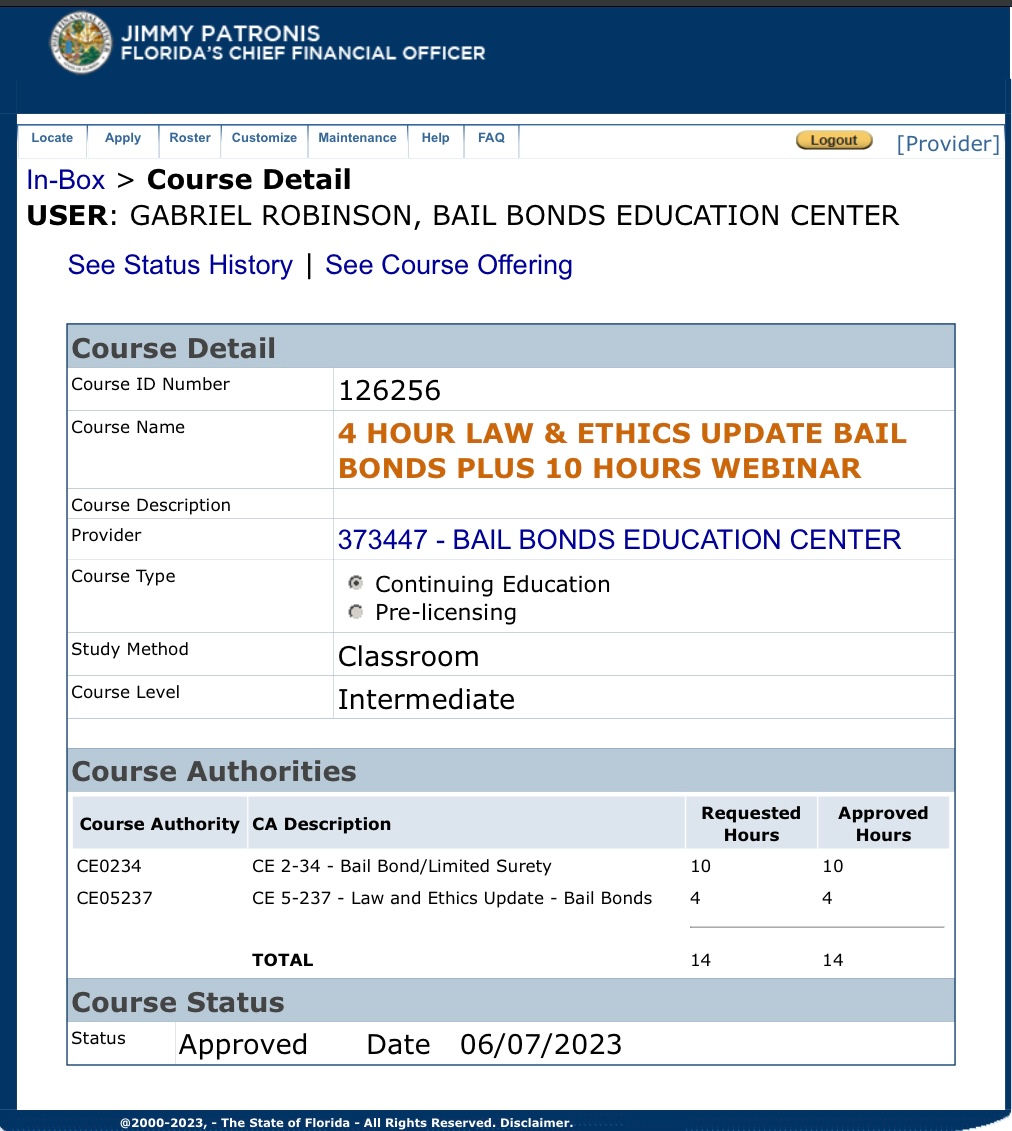 Extensive Coverage
Our webinar covers 14 hours of immersive learning, conveniently spread over five days. With a little over 2 hours per day, you can easily fit this valuable disrupting your workflow. This thoughtful scheduling allows you to easily fit this valuable education into your daily routine without disrupting your workflow or personal commitments. Whether you're a full-time professional or have other responsibilities, our flexible format ensures you won't miss out on this essential opportunity to upgrade your skills and knowledge in the bail bond industry. With a manageable time commitment each day, you can maintain you productivity while investing in your professional growth. Prepare to receive a comprehensive education that caters to your convenience and empowers you for future success in the bail bonds field. Don't let time constraints hold you back; enroll in our webinar now and unlock the potential for career advancement without sacrificing your work-life balance.
Diverse Topics
We understand the importance of well rounded education. Our webinar includes specific hours dedicated to law and ethics, ensuring you stay updated on crucial legal aspects. Additionally, you'll delve into a range of electives such as bail form, the criminal justice system, pre-trial services, diversity and inclusion in bail bonds, and de-escalation techniques. These diverse topics will broaden your understanding of the industry and equip you with essential skills.
Law and Ethics: You will spend dedicated hours exploring the intricate legal landscape surrounding bail bonds. This in-depth understanding of law and ethics will ensure you operate with integrity, compliance, and a strong ethical foundation throughout your career.
Electives: Immerse yourself in a diverse array of electives carefully curated to enhance your expertise. Delve into the complexities of bail reform, gaining insights into the evolving approaches to pretrial release and risk assessment. Unravel the working of the criminal justice system, from law enforcement to corrections, to comprehend the broader context in which bail bonds operate.
Pre-trial services will be demystified, equipped you with knowledge on defendant assessment and supervision during the pretrial phase. Our course also fosters a deep appreciation for diversity and inclusion in bail bonds. empowering you to create an equitable and inclusive environment for clients and colleagues.
Civil Rights and Bail Bonds: In the dynamic field of bail bonds, staying informed and ethically grounded is not just a requirement; it's a benchmark of excellence. Our curriculum is meticulously crafted to blend legal acumen with a deep understanding of civil rights, equipping you to navigate the complexities of the bail bonds landscape with confidence and integrity.
Moreover, you'll develop essential de-escalation techniques, enabling you to handle sensitive situations with finesse and defuse tensions effectively. each elective present a unique opportunity to broaden you understanding and hone crucial skills that directly impact your professional success.
By engaging with this comprehensive range of topics, you'll be well-equipped to navigate the confidently. Embrace the power of diverse education that not only elevates your expertise but also shapes you into a well-rounded professional, ready to adapt to the ever-changing demands of the field.
Flexibility
Classes start every Monday and end on Friday, allowing you to choose the week that suit you the best. You can plan your education around your commitments, ensuring minimal disruption to your work and personal life.
Whether you're juggling work responsibilities, family commitments, or other personal obligations, our flexible scheduling empowers you to plan your education without major disruptions. Attending our webinar at a time that suit you best, and take charge of your professional development on your terms.
Say goodbye to rigid course schedules that cause unnecessary stress and frustration. With our accommodating approach, you can seamlessly integrate this valuable education into your daily routine, all while ensuring that you maintain a healthy work-life balance.
We believe that your pursuit of knowledge should complement, not complete with. your existing commitments. Embrace the convenience and empowerment of our flexible schedule, and make continuous education and enriching and rewarding experience.
State Approved
Rest assured that our course meets all necessary requirements and is approved by the state. By completing our webinar, you will fulfill your continuous education obligations and stay compliant with industry regulations.
We prioritize the quality and legitimacy of our educational offerings. Our 14- hours continuous education webinar is meticulously crafted to meet and exceed all necessary requirements set forth by the Department of Financial Services.
By participating in our state-approved course, you can be confident that you are receiving the highest standard of education, ensuring that you stay up-to-date with the latest industry developments and legal changes. rest assured that completing our webinar will fulfill your continuous education obligations, making it a seamless process for maintaining your professional standing within the bail bond industry.
With industry regulations constantly evolving, our state-approved course guarantees that you will remain compliant and well-informed. We are dedicated to providing you with an education that aligns with the highest industry standards, enabling you to confidently navigate the complexities of the bail bond profession.
Expert Instruction
Our webinar are led by experienced instructors who possess a deep understanding of the bail bonds fiend. They will guide you through each topic, providing practical insights and answering your questions to ensure your learning experience.
We take great pride in our team of seasoned instructors, each a true expert in the bail bonds field. With years of practical experience and extensive knowledge, they bring a wealth of insights to our webinar.
Throughout each session, our instructors will guide you through the intricacies of every topic, ensuring you grasp the material with clarity and confidence. Their hands-on expertise allows them to present real-world scenarios, making the learning experience engaging and applicable to your professional endeavors.
Moreover, our instructors welcome questions, fostering an interactive environment that promotes active learning. Whether you seek clarification on complex concepts or desire practical advise for real-left situations, they are readily available to address your queries and provide valuable mentorship.
We believe in the power of exceptional instruction. Our instructors' dedicated to your success extends beyond the classroom, as they are committed to equipping you with the tools and knowledge needed to excel in your bail bond career